Wildcats Basketball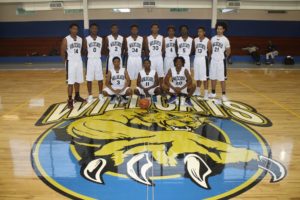 The goal of the Dunn Wildcats is to provide a safe and productive environment that enables youth to learn and apply the principles of teamwork, discipline, dedication, and sportsmanship. We facilitate the development of strength and character in every young person that participates. Participation in Dunn Wildcats is open to all boys and girls in the Harnett/Sampson/Johnston County areas in North Carolina. We also support our local school system and school coaches.
We are sustained by the efforts of volunteers who display an extraordinary amount of commitment and hard work, ensuring that our program is a positive influence in the lives of our youth. We also strive to provide a service to our community by providing a healthy outlet for youth, opportunities for the community to gather together, and endless hours of entertainment.
---
2021-2022 season will be starting soon for  the Dunn Wildcats! We will be following all CDC Guidelines.
The partnership of Dunn Wildcats we offer an Instructional Team(s) for Grades K-4th and offer travel teams Grades 5th – 11/12th. We will also offer an A Team and a B team if there are enough youth tryout. The A Team will travel more than the B Team will travel.
We also will be offering a Fee/Fundraiser based structure this year in which those youth that do not wish to be involved in fundraising the cost to participate is $300.00 per player. Those that cannot afford the participation fee will then be offered several League (Wildcats Basketball) sponsored fundraisers in which they will be participate in to cover their participation fee. Each player/family traveling may be responsible for their own food, possible lodging and other costs.
Wildcats Basketball Coordinator that are in charge of the Basketball Program and its processes as well as practice/tournament supervision. You can call the Program Manager at the Dunn PAL Office 910-892-1873 for more information.
---
Boys Basketball Teams 2021-2022 and Schedule TBA
Dunn Wildcats – Spring/Summer Travel Teams
Grades K-4th – Developmental
(Multi Teams, Intramural)
Tryouts starts December 2021
Coaches: Coaches needed for all divisions
5th, 6th, 7th, 8th, 10th and 11/12th Grade Boys Teams
Girls Basketball Teams – TBA
---
Here are the National schedules for the 2021 Season TBA
CLICK HERE for Ages 9U-14U NTBA Nationals
Myrtle Beach, SC 
CLICK HERE for Grades 5th-12th NTBA Nationals
Myrtle Beach, SC 
CLICK HERE for USBA Nationals
Raleigh, NC 
CLICK HERE for Teammate Basketball Nationals
Pigeon Forge, TN 
---
Dunn PAL Basketball Manual CLICK HERE
Players Can REGISTER for the 2021-2022
We Play in the following Associations:




Recreation Basketball Team – (December – February)
Those playing in recreation basketball cannot be playing on a high school team.
18U Boys
16U Boys
14U Boys