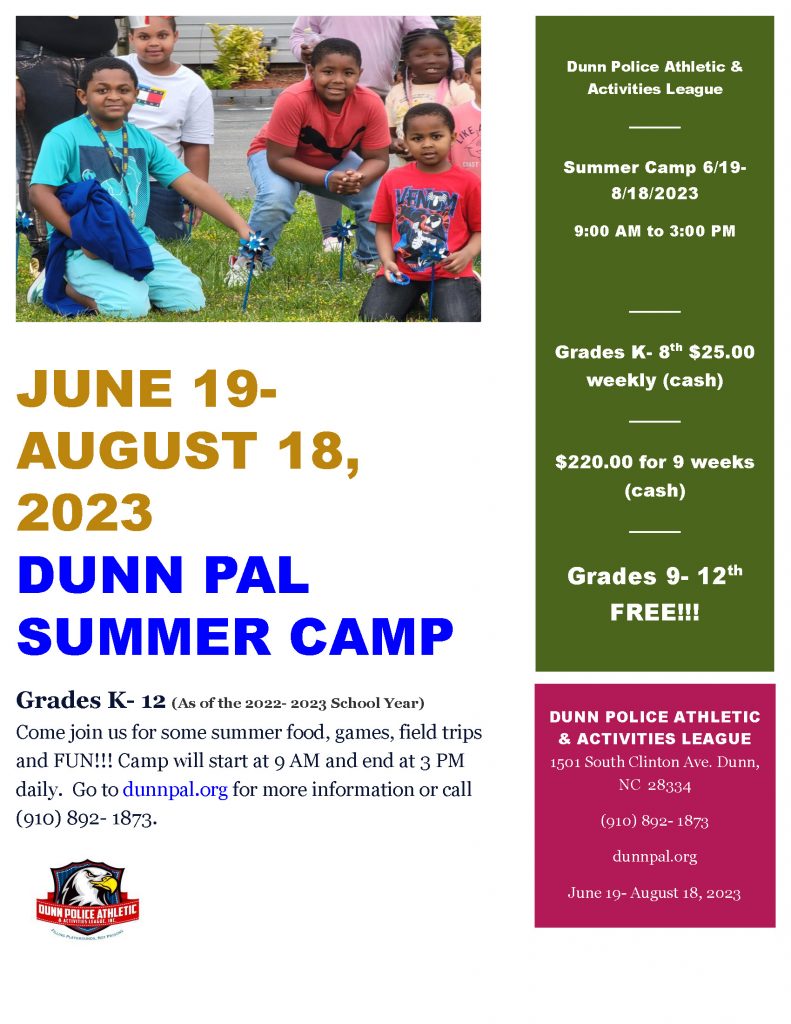 The Dunn Police Athletic & Activities League, Inc. Educational Summer Camp will operate Monday – Friday starting Monday, June 19, 2023 and ending Friday, August 18, 2023. We will be closed Monday, July 4th for the Holiday. Times of the camp Monday-Friday are 9:00 AM – 3:00 PM. Transportation to the camp is parent/guardian responsibility and we may take home to only those youth that live in the city limits of Dunn, NC.
Summer Camp Fees Grades K-8th are $25.00 cash each week per person to participate (this covers field trip costs). There is a discount if you pay for the entire summer in advance (Call the office). If you are out of Harnett County School District is $40 cash per week. Early Drop off is $30 for a day or $50 for the week cash. (Call the office for credit card payment costs)
FREE to youth Grades 9-12th and Registration is first come first serve. Space is limited so register online today! But, Out of Harnett County and Early Drop off rates will apply (see the top section)
We will offer hands on educational STEM activities and field trips. Some money may be required for field trips but we will let you know in advance if it is required.
First priority will be given to our After-school Program youth before anyone else.
Parents are required to drop their child off at the PAL Location at 1501 S. Clinton Ave. Dunn, NC 28334. HWY 301 South just past the US Post Office.
ALL Parents MUST Complete a Summer Camp Registration form located here: CLICK HERE
ALL Youth are required to have a current Youth PAL Application on file for this School Year September 2022-May 2023. If they are not here is the online link to complete the application: CLICK HERE
Once both Camp Registration and PAL Application have been received we will notify you to advise if your child(ren) are on the roster to attend or if they are on a waiting list.
When completing the forms and application the grade and school is the current grade attending not the grade and school they will attend next year.
Any questions call the PAL Office at 910-892-1873
Please keep checking back to this page for any changes.
Thank you