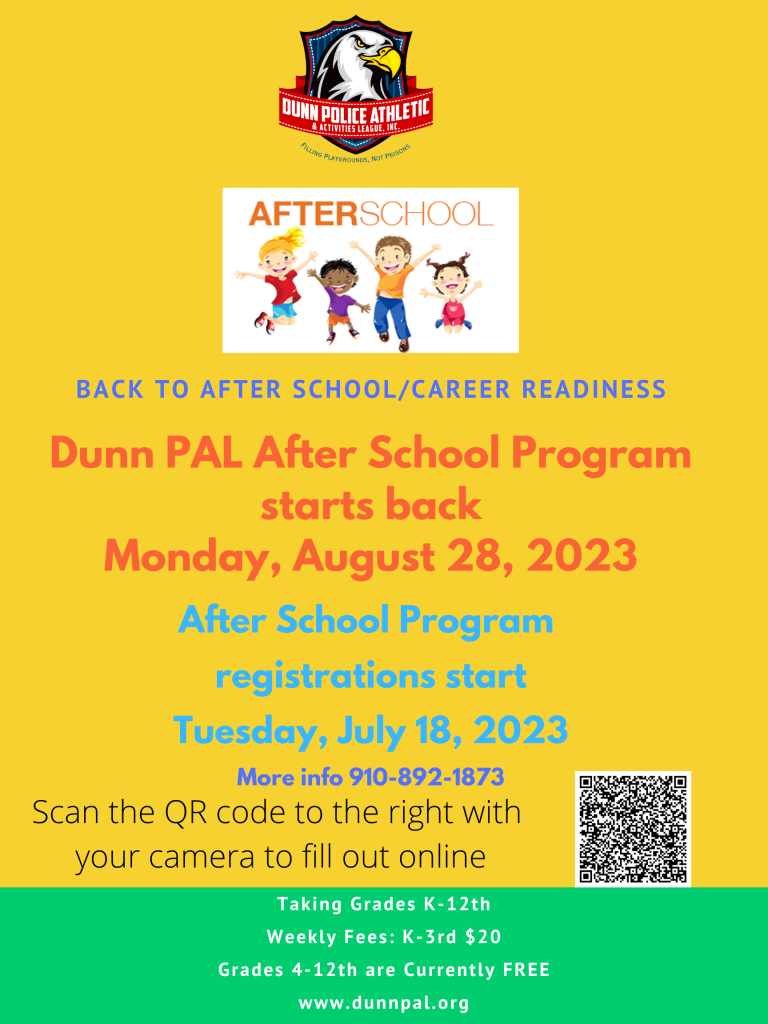 Grades K-12th Monday – Friday
Registration starts Tuesday, July 18, 2023
First day of After-school/CCR Program starts Monday, August 28, 2023
OVERVIEW & PURPOSE
The purpose of the After-school Program is to offer Homework and Tutoring assistance in the afternoon after school. It is to help students understand school class subjects to increase grades and attendance. Also in the After-school Program is the College and Career Readiness Program which offers youth grades 8-12th Career Experiences, employability skills, work experience, college preparation and college field trips.
Afterschool Monday-Friday (2:30pm-6:00pm)
Grades K-3rd the fee is $20 per week per child. The week is Monday-Friday or any part of the week.
Grades 4th-12th are FREE through a Grant from the Harnett County Juvenile Crime Prevention Council (JCPC).
SPACE IS LIMITED So hurry Now
After-school Program and College & Career Readiness (CCR) Program starts Monday, August 28, 2023.
JCPC Program Youth
*College and Career Readiness Program FREE for Grades 8-12th under the JCPC Grant for Afterschool. *SKIP Program FREE for Grades 4-12th in JCPC After-school Only.
*Mentoring Program and Athletic Programs are not included in this pricing.
Transportation
We provide transportation from the School to PAL from the Dunn Schools and Triton. **We are offering Transportation from Coats-Erwin Middle School to Dunn PAL Afterschool for the Afterschool Program and drop off to specified locations inside Erwin City Limits.
We provide transportation home to students in the After-school Program who live in the City Limits of Dunn only.
How To Apply
Apply now by completing our online digital application at the bottom, completing it to include signing all sections and then click submit. Questions call the office at 910-892-1873.
JCPC Forms To Complete Below for Grades 4th-12th ONLY
These forms are to be completed for FREE After-school and College & Career Readiness Program participation for Grades 4th-12th in Harnett County Schools ONLY.