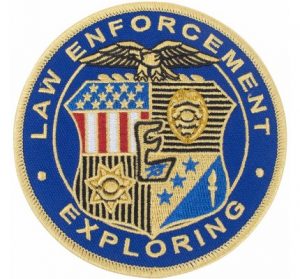 ____
____
We are currently accepting applications
for the 2023-2024 class.
The Police Explorer Post meet the 2nd and 4th Monday of each month at 6:00 PM for training and various other activities.
Meeting location: PK Vyas Education Center at Dunn PAL 1501 S. Clinton Ave. Dunn, NC 28334
Starts Monday, January 23, 2023
6:30 PM
Contact:
Office Number 910-892-1873
Pictures to be posted soon ……
Explorer's Code of Ethics
As an Explorer…
I believe that American's strength lies in her trust in God and in the courage and strength of her people.
I will therefore, be faithful in my religious duties and will maintain a personal sense of honor in my life.
I will treasure my American heritage and will do all I can to preserve and enrich it.
I will recognize the dignity and worth of my fellow men and will use fair play and good will in dealing with them.
I will acquire the Exploring attitude that seeks the truth in all things on the frontier of our changing world.
Law Enforcement Code of Ethics
As a Law Enforcement Officer, my fundamental duty is to serve mankind; to safeguard lives and property; to protect the innocent against deception, the weak against oppression or intimidation, and the peaceful against violence or disorder; and to respect the Constitution Right of all men to liberty, equality and justice. I will keep my private life unsullied as an example to all; maintain courageous calm in the face of danger, scorn, or ridicule; develop self-restraint; and be constantly mindful of the welfare of others. Honest in thought and deed in both my personal and official life, I will be exemplary in obeying the laws of the land and the regulations of my department. Whatever I see or hear of a confidential nature or that is confided to me in my official capacity will be kept ever secret unless revelation is necessary in the performance of my duty.I will never act officiously or permit personal feelings, prejudices, animosities or friendships to influence my decisions. With no compromise for crime and with relentless prosecution of criminals. I will enforce the law courteously and appropriately without fear or favor, malice or ill will, never employing unnecessary force or violence and never accepting gratuities. I recognize the badge of my office as a symbol of public faith, and I accept it as A public trust to be held so long as I am true to the ethics of the police service. I will constantly strive to achieve these objectives and ideals, dedication myself before God to my chosen profession… Law Enforcement.
Department Purpose and Mission for Exploring
The intent of Law Enforcement Exploring is to educate and involve youth in police operations, to interest them in possible Law Enforcement careers and to build mutual understanding between the police and the community. The education aspect provides knowledge of the Law Enforcement function in one's community whether one enters the field of Law Enforcement as a career or not. Through involvement, the Explorer program establishes an awareness of the complexities of police service. While police personnel remain the key to success, other reliable citizens can also become involved in the exploring program.
Post Membership Statement
Membership in the Law Enforcement Explorer Post is open to any youth, ages 12 through 20.
A. An application with parent/guardian approval must be filled our completely and returned.
B. Have parental approval, which includes signatures by the Explorer and his/her parents or guardians on a general liability release form.
C. Be of good physical and mental health
D. Be of good moral character with no arrests or convictions of serious offenses.
E. All Explorers must maintain satisfactory grades in school work (C Average, 75% average in all subjects).
Selection Process
Each new prospective member must have filled out an Explorer application, and go though a selection process, which will include an interview and a background investigation by the Post Review Board.
Each new Explorer will be expected to successfully complete a six (6) month probationary period. During this time the Explorer will undergo and successfully complete a training program and evaluation process.
APPLY TODAY HERE ONLINE
You must complete both to be considered for the Explorer Post Program.
If you have already completed the General Youth Membership Application this school year you can disregard.
updated 1.5.2023